Medicinal Herbs Online Course
This is not a 'herbal medicine course' it is a horticulture course for those wanting to grow and prepare herbs for medicinal use!
Free Ebook: Handbook of Medicinal Herbs (2nd Edition) by James Duke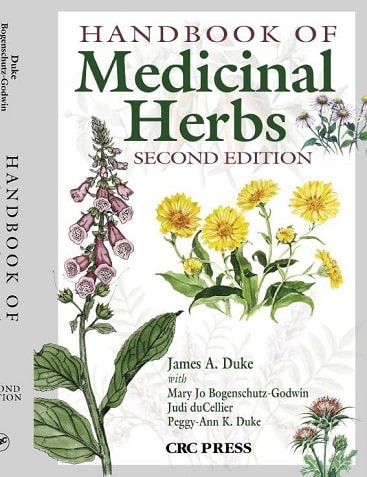 Why study this Medicinal Herbs course?
Careerline's online Medicinal Herbs course is designed as an introduction to medicinal herbs, teaching you how to identify and administer herbs for medicinal purposes. Studying this course will help you to develop the skills required to select plants for your own medicinal herb garden.
Whether you hope to upskill, become a more skilled hobbyist, or get a head start on future studies, studying with Careerline will have a positive impact on your future. This beginner
medicinal herbs course is taught from a horticultural perspective, rather than a medical one. This will help you to improve your knowledge of growing and preparing herbs for medicinal use.
What will you learn?
Careerline's online Medicinal Herbs course provides beginner herb gardeners with a basic knowledge of growing herbs for medicinal purposes. You will learn to identify and differentiate between different herbs. During your studies, you will also develop an understanding of how to find reliable and trustworthy resources on herbal medicine. In addition, you will study the history of herbal medicine around the world.
This introductory course teaches students how to cultivate, propagate, and care for medicinal herbs. You will learn about the medicinal herbs that are commonly used in herbal remedies, including ginger, garlic, and echinacea. Further, you will study the many types of herbal remedies that you can grow and prepare at home, and the methods used to prepare them.
Throughout your studies, you will improve your ability to differentiate between edible and poisonous herbs. You will become familiar with plants that are beneficial for human health, while learning to identify and avoid those that are harmful. Finally, Medicinal Herbs students develop a production plan for herb growing, including deciding on what to grow, how to overcome problems you may encounter, and managing a market garden.
Who is this online Medicinal Herbs course for?
The Medicinal Herbs course is ideal for beginner herb gardeners, as well as anyone interested in alternative medicine. Aspiring plant scientists, horticulturalists, herbal medicine practitioners, nursery staff, botanists, and other horticulture and alternative medicine professionals will find this course beneficial. You will be able to apply the skills you learn in this course to your future profession.
The skills you will learn in this course provide a high-quality and comprehensive introduction to growing medicinal herbs, which can be expanded upon through further study or work experience. It is an ideal starting point for anyone hoping to undertake university or vocational study in horticulture, herbal medicine, plant science, biology, or health science.
You will be introduced to concepts that are taught in higher-level courses, helping you to feel prepared and confident as you continue your academic and professional journey.
What are the benefits of studying online?
Careerline's online courses provide the flexibility to study whenever, wherever, and however you like. You'll be able to learn at your own pace with the support of your knowledgeable tutor who has real-world experience in their field. No matter how busy you are, Careerline's adaptable online learning plan will help you fit study into your schedule.
Course Aims:
Distinguish between medicinal herbs in cultivation including twenty-five different genera and fifty different varieties.
Discuss the history of medicinal herb usage.
Compare the chemical components of different medicinal herbs in terms of their general affect on the human body.
Prepare simple and safe herbal remedies in a domestic situation.
Explain the potential dangers involved in dealing with plants.
Prepare a schedule of cultural practices for a medicinal herb crop.
Develop a production plan for a medicinal herb crop.
Get Free Info Pack
Complete the form below and we'll send you a free info pack.
This course is made up of a number of lessons or units.  Each of these has self assessment questions, a set task (practical homework) and an assignment which you can upload online.  Click below to read about each of the lessons and what you will learn.
There are 8 lessons in this course:
Introduction to Medicinal Herbs
Scope and Nature of Herbal Medicine
Being Cautious
Growing and Knowing Medicinal Herbs
Accurate Plant Naming
Pronouncing Plant Names
Finding Reliable Resources
Culture of Medicinal Herbs
What is a Herb
Soils and Nutrition
Cultivation
Fertilizing Herbs
Compost, Mulch, Watering
Propagation
Pest and Disease
History
Introduction
Hippocrates
Chinese Herbalists
Egyuptian Influence
Greek Influences
The Dark Ages
German and English Herbals
Other Influences
Main Medicinal Herbs
Introduction and Varieties to Grow
Production Plan
Improving Soil Fertility
Cover Crops and Legumes
Cultivation, Growing Methods, Compost
Growing and using Ginger
Garlic Culture
Echinacea Culture
Herbal Remedies
Alternatives
Anthelmintic
Astringents
Bitter Tonics
Calmatives
Carminatives and Aromatics
Cathartics
Diaphoretics
Dietetics
Demulcents
Emollients
Expectorants
Nervines
Relaxants
Vulnerary Herbs
Common Herbs with Medicinal Properties
Nervines as Healing Agents
Natural Chemicals in Plants and their Affect on Health; saponins, phenolglycosides, anthraglycosides, flavonoids, mustard oils, polysaccharides, prussic acid, glycosides, coumarin, tannins, bitters, essential oils, alkaloids, purines, essential minerals
Chemistry of Herbs
Herbal Sources for Human Nutrients
Preparing Herbal remedies
Infusion
Decoction
Poulice
Medical Preparations
Problem of Accurately Formulating Herbal Medicines
How herbalists used to work
The Difference Today
Harvesting Material for Herbal Preparations
Post Harvest Handling of Herbs
Post Harvest Preservation; Fresh, Modified Atmospere Packaging
Herbal Preparations for Teas, Rinses and Baths
Producing Essential Oils; Water distilation, Steam distilation
Uses for Eucalyptus Oil
Poisonous Plants
Introduction
Review of Plant Poisons
Hazardous Herbs
Carcinogens, Potosensitizers, Allergens, Hormone Like Affects, Teratogens, Respiratory Inhibitors, etc
Toxic Plant Constituents
Developing a Production Plan
Managing a Market Garden
Deciding What to Grow
Production Planning
Types of Problems
Standards
Crop Schedules
Farming Medicinal Herbs
Production Requirements for Different Herbs
When you have completed the lessons of your Certificate course, you will be given the option of taking the optional exam. It's okay if you don't want the exam, we still issue your Careerline Certificate. For Advanced Certificates however, the exam is compulsory (per module) and are included in the course fee.
Barbara Tremain BSc. (Hons) Horticulture, RHS Adv. Cert,. RHS General, City & Guilds Garden Design, Permaculture Level 3 (UK)
Barbara brings to Careerline a wide range of horticultural experience and knowledge Barbara has a keen interest in herbalism, edible wild plants and has lead into studies of many plant based complementary medicinal systems, qualification as a Bach Flower remedy practitioner and studying Ethnobotany. Barbara has practiced and studied horticulture as well as combining it with her love of travel in many countries including the UK, US and Australia and has also studied Permaculture and runs her own horticulture business. Within the past two years she have also worked for Groundwork SW with 18-24 year old unemployed people, this work and the mentoring scheme has allowed me to teach informally. It has been a delight to nurture the interests of keen learners in horticulture and garden design. Meanwhile the business has covered a variety of Garden Design projects, from wildflower gardens to seaside situations, and has included some work with Chelsea Gold multi-winner John Moreland.
Frequently Asked Questions
Can I pay in installments?
Yes! We offer great payment plans, however full payment up front is the cheapest. You can choose the best payment plan for you from the course page, or call us on 07 55368782 to talk to one of our course consultants for a custom plan.
Can I study from anywhere in the world?
We have many international students. Careerline's range of courses are suitable for any one, anywhere in the world.
Do I get a discount if I enroll in a second course?
Yes. You may claim a 5% fee discount when you enroll in a second course, and a further 10% off a three-course package.
Do I have to sit an Exam?
No. If you are enrolled in a Certificate course (100hrs), the exam is optional. You will be issued with a certificate which proves that you are competent in all units, if you choose not to sit the exam.
Do you have set start dates?
There are no set start dates, you may start at any time. Our courses are all self-paced. As our home page says, 'Courses for Anyone, Anywhere, Anytime'. 'Anytime' includes the start time of your choice. However, we do encourage our students to submit assignments on a regular basis. Wherever possible, we suggest developing a study routine.