This equine behaviour online course presents an in depth study of the behaviour of horses including psychological influences on behavior and how principles of learning are applied as effective horse training methods.
Students will work through lessons over-viewing motivators of equine behavior, how genetics influence behavior, perception in horses and how horses respond to stimuli, social structure and communication behavior, sexual and reproductive behavior, how horses learn through conditioning and reinforcement, and factors influencing
abnormal behavior in horses.
This course is suitable for individuals wanting to develop a deeper understanding of horse behavior as well as gain practical skills in properly handling and training horses.
In this Equine Behaviour Course Online you will learn:
Identify factors affecting equine behaviour.
Describe the influence of genes on equine behaviour.
Explain how horses perceive and how they respond to various stimuli
Explain how horses communicate and the nature of their social organisation.
Explain the sexual and reproductive behaviour of the horse.
Describe the different ways that horses learn and how this can be applied to the training environment.
Explain how and why behavioural problems occur and how they can be prevented.
This course is made up of a number of lessons or units.  Each of these has self assessment questions, a set task (practical homework) and an assignment which you can upload online.  Click below to read about each of the lessons and what you will learn.
There are 7 lessons in this course:
Introduction: Influences and motivation
Why study equine behaviour?
What motivates behaviour?
Reactive behaviour
Active behaviour
Cognitive behaviour
Species behavioural differences
Learned behaviour
Classical conditioning
Stimulus conditioning
Trace conditioning
Delayed conditioning
Operant conditioning
Terminology
Genetics and Behaviour
Understanding the basics
Heritability
Epigenesis
Innate behaviour
Selective pressures
Social behaviour
Rank
Conflict
Equine Perception and Behaviour
Imprinting
Negative imprinting
Sensory reception
Mechanoreceptors
Thermoreceptors
Chemoreceptors
Photoreceptors
Stimulus filtering
Communication and Social Behaviour
Social Constraints
Herd Membership
Auditory signals
Chemical signals
Communication
Co-ordination
Cohesion
Sexual and Reproductive Behaviour
Sexual encounter
Isolating mechanisms
Birthing behaviour
Foal imprinting
Maternal behaviour
Abnormal behaviour
Learning and Training
Conditioning and learning
Shaping
Extinction
Habituation
Instrumental Learning
Thorndike's Law of Effect (1913)
Operant and Respondent Behaviour
Pseudo-conditioning
Intero-ceptive Conditioning
Temporal Conditioning
Biological Aspects of Learning
Associative Learning
Obedience
Reinforcement
Punishment
Systematic desensitisation
Counter conditioning
Behavioural Problems
Types of Abnormal Behaviour in Horses
Diagnosing Behavioural Problems
Indicators of Pain
Indicators of Mild Fear
Indicators of Extreme Fear
Stress
Stereotypes
Stable Vices
Prevention
Ridden Vices
Handling Vices
Problems during loading
When you have completed the lessons of your Certificate course, you will be given the option of taking the optional exam. It's okay if you don't want the exam, we still issue your Careerline Certificate. For Advanced Certificates however, the exam is compulsory (per module) and are included in the course fee.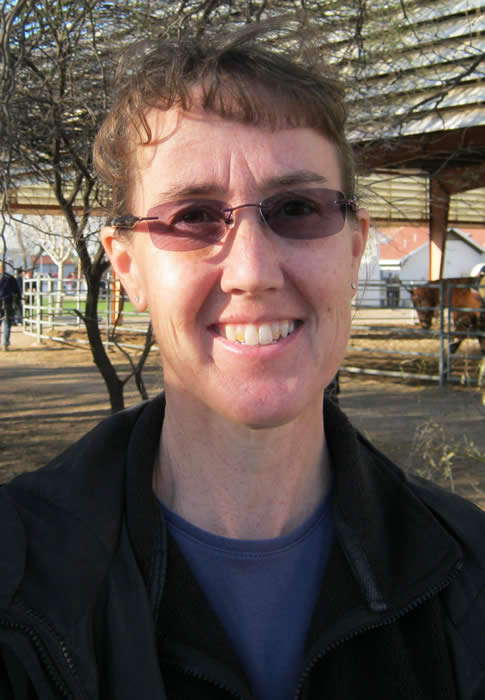 Meg Anema
M.Sc. Clinical Sciences (Equine Reproductive Physiology)  B.Sc.  Animal Science (Option: Equine Science) B.Sc.Agricultural Economics
Meg grew up training and showing horses in youth and 4-H programs, and then went on to earn Bachelor of Science degrees in Animal Science and Agricultural Economics, as well as a Master of Science degree in Equine Reproductive Physiology. In addition to several years of industry experience as a Quarter Horse breeding farm manager and custom A.I. technician, Meg developed and taught for 10 years in a comprehensive, secondary Equine Science Studies Certificate program covering all areas of Equine Science.  Meg considers the horse to be an absolutely incredible athlete and amazing study! Aside from tutoring Careerline's Equine courses Meg has also taught various courses in equine studies including: Equine Nutrition, Equine Herd Health, Equine Sports Medicine, Equine Reproduction, Equine Industry, Principles of Horse Evaluation, Horsemanship, Applied Genetics, Introduction to Veterinary Science, Animal Anatomy & Physiology, Introduction to Animal Science and more.
Frequently Asked Questions
Can I pay in installments?
Yes! We offer great payment plans, however full payment up front is the cheapest. You can choose the best payment plan for you from the course page, or call us on 07 55368782 to talk to one of our course consultants for a custom plan.
Can I study from anywhere in the world?
We have many international students. Careerline's range of courses are suitable for any one, anywhere in the world.
Do I get a discount if I enroll in a second course?
Yes. You may claim a 5% fee discount when you enroll in a second course, and a further 10% off a three-course package.
Do I have to sit an Exam?
No. If you are enrolled in a Certificate course (100hrs), the exam is optional. You will be issued with a certificate which proves that you are competent in all units, if you choose not to sit the exam.
Do you have set start dates?
There are no set start dates, you may start at any time. Our courses are all self-paced. As our home page says, 'Courses for Anyone, Anywhere, Anytime'. 'Anytime' includes the start time of your choice. However, we do encourage our students to submit assignments on a regular basis. Wherever possible, we suggest developing a study routine.