This course is an advanced course that is designed to give the student an understanding of both the practical aspects of equine breeding with regard to management of the stallion, mares, breeding and their foals, as well as the management of selective breeding and genetic selection.
The lessons presented include fundamental principles of horse breeding, reproductive anatomy and physiology of the mare and stallion, common breeding practices, principles of artificial insemination and embryo transfer, management of the pregnant mare, indicators of the impending foaling process and parturition, as well as care of the newborn foal and reproductive failure in horses.
This course is intended for anyone with an interest in breeding and raising horses, and especially for those individuals wanting to pursue careers as horse breeders, breeding farm owners, stud and stable workers.
Who is the Horse Breeding Course for?
Horse breeders, stud owners, stud and stable workers.
Horse Breeding Course Aims:
Understand the process of selecting mares and stallions for successful breeding purposes.
Identify and understand the anatomy and physiology of the mare's reproductive tract and the physical characteristics, which are preferable for a successful brood mare.
Identify and understand the anatomy and physiology of the stallion's reproductive tract and the physical characteristics, which are preferable for a successful breeding stallion.
Explain and compare different ways of breeding horses.
Identify and explain the appropriate management of a pregnant mare.
Understand and explain the foaling process.
Describe the important care of a newborn foal.
Discuss common fertility problems that can occur in a mare and stallion.
This course is made up of a number of lessons or units.  Each of these has self assessment questions, a set task (practical homework) and an assignment which you can upload online.  Click below to read about each of the lessons and what you will learn.
There are 9 Lessons in this course:
Breeding Horses
Why breed horses?
An understanding of heritability is fundamental
Meiosis
The Work of Gregor Mendel
Chromsomes and Genetics in Breeding
Selecting the mare and the stallion
Quantitative and Qualitative Inheritance
Inbreeding and Linebreeding
The Genetic Effect of Inbreeding
Line Breeding
Advantages of Inbreeding
Stallion and Mare Complementation
The Industry
The Broodmare
Mare Anatomy
The Reproductive Cycle of the Mare
Hormonal Control
Abnormal Oestrus
Breeding Fitness
General Broodmare Care
Nutrition and Feeding
Rations
Carbohydrates
Fat
Protein
Vitamins
Roughage
Hay
Pre-Season Care
The Stallion
Stallion Anatomy
Sperm Production
Semen Release
Reproductive Cycle of the Stallion
Breeding Fitness
General Stallion Care
Handling
Pre-Season Care
Stallion Management for Reproduction
Training the young stallion
Steps in training a novice stallion onto the phantom
Common clinical problems with stallions
Castration (Gelding)
Breeding Management
Managing the Arrival and Departure of the horse at the stud
Semen from the stallion
Collection and Processing
Evaluating the Quality of Sperm
Breeding methods
Natural Breeding
Live cover – In-hand or Pasture
Artificial insemination
Handling Frozen Semen
Embryo transfer
When to breed
Detection of Oestrus
Teasers
Visual Signs
A plan for when things go wrong
Sexually Transmitted Infections
The Pregnant Mare
Pre-natal growth
Conception of twins
Gestation and Methods and Detecting Pregnancy
Methods of Diagnosis
Palpation
Pregnancy Tests
Ultrasound
Post-Natal Growth
Parturition and Foaling
Care of the Pregnant Mare
Nutritional Requirements
Caslicked Mares
Preparation for foaling
Exercise Needs
Worming
A deworming program for mares
Preparation of the foaling environment
Preparation for if things go wrong
The Physical Environment – Bedding
Common Bedding in the Foaling Environment
Straw
Wood Shavings
Wood Pellets
Rubber Matting
The Parturition Process
Stages of Labour
Common Foaling Problems
Dystokia
Abnormal Presentations
Health Problems of the post-partum mare
Retained placenta
Haemorrhage
Post-Partum Metritis
Rejection of the Foal
Prolapsed Uterus
Lactation (Udder edema)
Lactation (reduced milk supply)
Foal and foaling reports
Example Foaling Record
Example Foal Report
Care of the New-born Foal
General newborn care
Stabling and safe environment for newborn foals
Lactation and suckling
Premature Foals
Orphan foals
Common health problems in newborn foals
Infections, Constipation and Diarrhoea
Septicaemia
Meconium Impaction
Diarrhoea
Congenital disorders
Neonatal Isoerythrolysis (NI)
Angular Limb Deformities
Flexor and Extensor Tendon Abnormalities
Delayed Ossification of the Cuboidal Bones
Heart Murmurs
Congenital Papilloma (Warts)
Entropion
Neurological disorders
Neonatal Maladjustment Syndrome (NMS)
Head Tilt
Structural abnormalities
Uroperitoneum
Umbilical Hernias
Training a foal in the earliest stages
Infertility in the Mare and Stallion
Introduction to Fertility
Understanding Fertility in Mares
Understanding Fertility in Stallions
Handling and Management in Stallions
Age
Overuse
Nutrition
Illness and Injury
Other Abnormalities
Semen problems
Haemospermia
Urospermia
Oligospermia
Structural disorders of the reproductive tract (mares)
Pneumovagina
'Maiden Cervix' or Cervical Incompetence
Vesicovaginal Reflux or Urine Pooling
Structural disroders of the reproductive tract (stallions)
Cryptorchidism
Testicle Conformation
Testicular Torsion
Testicular Tumours
Scrotal Hernia
Venereal diseases (mares)
Endometritis
Bacterial Endometritis
Fungal Endometritis
Mating Induced Endometritis
Contagious Equine Metritis (CEM)
Equine Viral Arteritis (EVA)
Pyometra
Abnormal Oestrus Cycles
Silent Heat and Post-Partum Anoestrus
Persistant Oestrus
Vernal Transition
Ovarian Tumours
Persistant Corpus Luteum
Haemorrhagic Follicles
Abortion
Venereal diseases (stallions)
Bacterial Infections
Equine Viral Arteritis (EVA)
Equine Coital Exanthema
Dourine
Contagious Equine Metritis (CEM)
Infectious causes of abortion (mares)
Viral Abortion
Bacterial Abortion
Leptospirosis
Non-infectious causes of abortion (mares)
Congenital Defects
Twinning
Umbilical Cord Torsion
Progesterone Deficiency
Artificial Insemination in Horses
When you have completed the lessons of your Certificate course, you will be given the option of taking the optional exam. It's okay if you don't want the exam, we still issue your Careerline Certificate. For Advanced Certificates however, the exam is compulsory (per module) and are included in the course fee.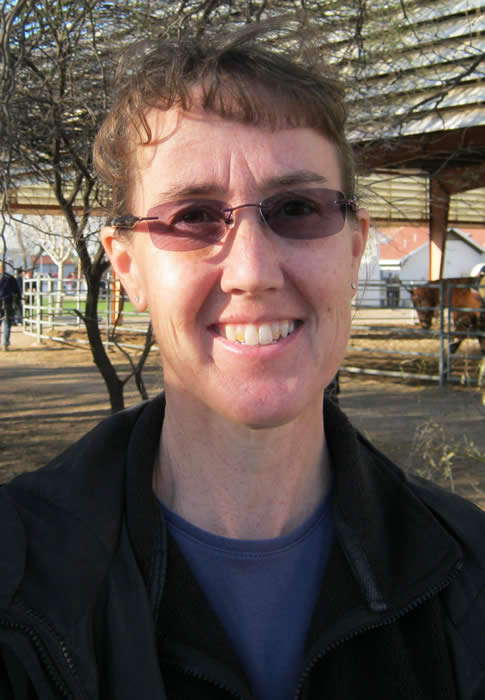 Meg Anema
M.Sc. Clinical Sciences (Equine Reproductive Physiology)  B.Sc.  Animal Science (Option: Equine Science) B.Sc.Agricultural Economics
Meg grew up training and showing horses in youth and 4-H programs, and then went on to earn Bachelor of Science degrees in Animal Science and Agricultural Economics, as well as a Master of Science degree in Equine Reproductive Physiology. In addition to several years of industry experience as a Quarter Horse breeding farm manager and custom A.I. technician, Meg developed and taught for 10 years in a comprehensive, secondary Equine Science Studies Certificate program covering all areas of Equine Science.  Meg considers the horse to be an absolutely incredible athlete and amazing study! Aside from tutoring Careerline's Equine courses Meg has also taught various courses in equine studies including: Equine Nutrition, Equine Herd Health, Equine Sports Medicine, Equine Reproduction, Equine Industry, Principles of Horse Evaluation, Horsemanship, Applied Genetics, Introduction to Veterinary Science, Animal Anatomy & Physiology, Introduction to Animal Science and more.
Frequently Asked Questions
Can I pay in installments?
Yes! We offer great payment plans, however full payment up front is the cheapest. You can choose the best payment plan for you from the course page, or call us on 07 55368782 to talk to one of our course consultants for a custom plan.
Can I study from anywhere in the world?
We have many international students. Careerline's range of courses are suitable for any one, anywhere in the world.
Do I get a discount if I enroll in a second course?
Yes. You may claim a 5% fee discount when you enroll in a second course, and a further 10% off a three-course package.
Do I have to sit an Exam?
No. If you are enrolled in a Certificate course (100hrs), the exam is optional. You will be issued with a certificate which proves that you are competent in all units, if you choose not to sit the exam.
Do you have set start dates?
There are no set start dates, you may start at any time. Our courses are all self-paced. As our home page says, 'Courses for Anyone, Anywhere, Anytime'. 'Anytime' includes the start time of your choice. However, we do encourage our students to submit assignments on a regular basis. Wherever possible, we suggest developing a study routine.