This course provides a study of equine health management and disease prevention. Lessons will include discussions on the principles of disease and disease transmission, as well as normal health parameters and signs of disease in horses. Additional topics to be presented include common infectious diseases, considerations for effective vaccination programs, parasite control and management, digestive system disorders and miscellaneous diseases affecting the skin and respiratory system. The course concludes with discussions regarding wound management and first aid.
This is a stand-alone course that does not require a prerequisite and can be taken alongside Horse Care I and III.
Course Aims:
Analyse the feeding requirements and feeding techniques available for horse husbandry
Develop a stable management program for horses
Explain the management procedures necessary to fulfil the bedding requirements of horses
Explain the management and care of horses feet
Implement management procedures for the conditioning of horses
Describe the procedures used for managing the tack requirements of horses
Explain the management, including design and applications of facilities used in the horse industry
This course is made up of a number of lessons or units.  Each of these has self assessment questions, a set task (practical homework) and an assignment which you can upload online.  Click below to read about each of the lessons and what you will learn.
There are 7 lessons in this course:
1. Review of Disease
Nature of Disease
Types of Disease
Disease Transmission
Limiting the Spread of Disease
Disease Resistance/Defense Mechanisms
Immune Response
Types of Immunity
2. Normal Health Parameters & Signs of Disease
Normal Health Parameters
Assessing Health Status
Body Condition Scoring
Disease Prevention and Control
3. Common Infectious Diseases
Impact of Infectious Diseases
Common Viral Diseases
Common Bacterial Diseases
Effective Vaccination Programs
Reportable/Notifiable Infectious Diseases
4. Parasite Management
Introduction to Parasites
Common External Parasites
Common Internal Parasites
Protozoa Parasites in the Horse
Parasite Control Program Goals
Use of Anthelmintics
General Management Recommendations
5. Digestive System Disorders
Review of the Equine Digestive Tract
General Signs of Digestive Disease
Disorders of the Digestive System
Disorders of the Mouth
Disorders of the Esophagus
Disorders of the Stomach
Disorders of the Small and Large Intestines
Diarrhea Management
Colic Management
6. Miscellaneous Diseases
Factors Contributing to Loss of Use
Structure and Function of the Skin
Disorders of the Skin
Function of the Respiratory System
Common Non-Infectious Respiratory Disorders
Eye Disorders
Endocrine Disorders
7. Wound Management and First Aid
Factors Influencing Risk of Injury
Goals of First Aid
Types of Wounds
Phases of Wound Healing
Factors Affecting Wound Healing
Wound Management
Wound Lavage
Bandaging
Treatment of Proud Flesh
General First Aid Recommendations
When you have completed the lessons of your Certificate course, you will be given the option of taking the optional exam. It's okay if you don't want the exam, we still issue your Careerline Certificate. For Advanced Certificates however, the exam is compulsory (per module) and are included in the course fee.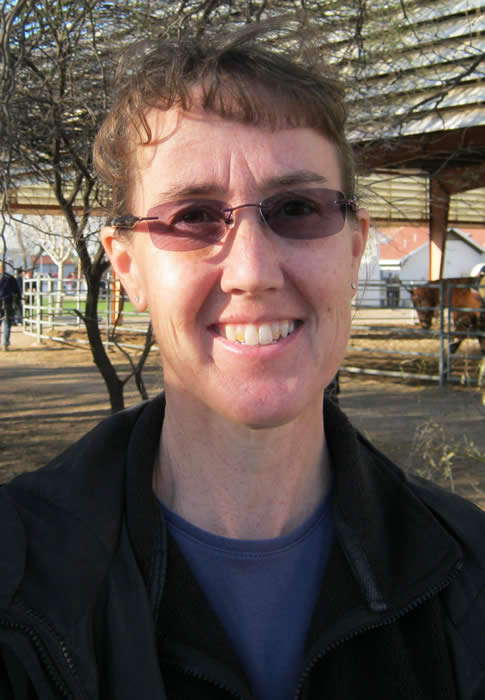 Meg Anema
M.Sc. Clinical Sciences (Equine Reproductive Physiology)  B.Sc.  Animal Science (Option: Equine Science) B.Sc.Agricultural Economics
Meg grew up training and showing horses in youth and 4-H programs, and then went on to earn Bachelor of Science degrees in Animal Science and Agricultural Economics, as well as a Master of Science degree in Equine Reproductive Physiology. In addition to several years of industry experience as a Quarter Horse breeding farm manager and custom A.I. technician, Meg developed and taught for 10 years in a comprehensive, secondary Equine Science Studies Certificate program covering all areas of Equine Science.  Meg considers the horse to be an absolutely incredible athlete and amazing study! Aside from tutoring Careerline's Equine courses Meg has also taught various courses in equine studies including: Equine Nutrition, Equine Herd Health, Equine Sports Medicine, Equine Reproduction, Equine Industry, Principles of Horse Evaluation, Horsemanship, Applied Genetics, Introduction to Veterinary Science, Animal Anatomy & Physiology, Introduction to Animal Science and more.
Frequently Asked Questions
Can I pay in installments?
Yes! We offer great payment plans, however full payment up front is the cheapest. You can choose the best payment plan for you from the course page, or call us on 07 55368782 to talk to one of our course consultants for a custom plan.
Can I study from anywhere in the world?
We have many international students. Careerline's range of courses are suitable for any one, anywhere in the world.
Do I get a discount if I enroll in a second course?
Yes. You may claim a 5% fee discount when you enroll in a second course, and a further 10% off a three-course package.
Do I have to sit an Exam?
No. If you are enrolled in a Certificate course (100hrs), the exam is optional. You will be issued with a certificate which proves that you are competent in all units, if you choose not to sit the exam.
Do you have set start dates?
There are no set start dates, you may start at any time. Our courses are all self-paced. As our home page says, 'Courses for Anyone, Anywhere, Anytime'. 'Anytime' includes the start time of your choice. However, we do encourage our students to submit assignments on a regular basis. Wherever possible, we suggest developing a study routine.