This course serves as a practical survey and review of the principles of nutrition and feeding management for horses. Topics covered in the course include a study of the horse's digestive anatomy and physiology, review of the basic nutrients, different factors affecting the nutritional requirements of horses, body condition scoring, types of feeds for horses, feed evaluation and selection criteria, utilization of pasture feed, general feeding program management, and diseases related to diet and feed.
This is a progressive horse care course that builds upon the foundations established through the successful completion of Horse Care A and B.
Course Aims:
Identify the use and purpose of protective equipment for horses including blankets, bandages and boots
Determine the procedures required to maintain a horse's health
Develop a program to prepare a horse for showing
Prepare a management plan for a horse while away from its home
Develop a plan for the management of a horse industry event
Analyse the management of a horse enterprise, including its marketing and financial viability
This course is made up of a number of lessons or units.  Each of these has self assessment questions, a set task (practical homework) and an assignment which you can upload online.  Click below to read about each of the lessons and what you will learn.
There are 6 lessons in this course:
1. Review of Digestive Anatomy and Physiology
Importance of Research in Equine Nutrition
General Characteristics of the Horse's Digestive System
Review of the Horse's Digestive Tract
Review of Nutrient Digestion Sites
Factors Affecting Digestion and Digestibility
2. Review of the Basic Nutrients
Definition of Nutrition
Challenges in Meeting Nutrient Requirements
Review of Basic Nutrients (Water, Energy, Protein, Vitamins, Minerals)
3 Factors Affecting Nutrient Requirements of the Horse
Challenges to Providing Good Nutrition to Horses
Stage of Life Factors (Maintenance Horses, Performance Horses, Breeding Horses, Growing Horses, Older Horses)
Environmental Factors
Body Condition Scoring
4. Feed Factors Affecting Feed Value
Basic Feed Selection Criteria
Determining the Value of Feed
Types of Feed for Horses
Roughages
Concentrates
Mixed Feeds
Additives
5. Feeding Program Management for Horses
Considerations for Feeding Horses
Feeding Management Basics
General Feeding Programs
Feeding Horses with Special Circumstances
Evaluating Commercial Feeds
Feeding Systems
Utilizing Pasture Feed
6. Disease Related to Diet and Feed
Understanding Malnutrition
Diagnosing a Feed-Induced Disease
Managing Over-nourished and Undernourished Horses
Feed-Induced Diseases
Poisonous Plants and Feed Toxins
When you have completed the lessons of your Certificate course, you will be given the option of taking the optional exam. It's okay if you don't want the exam, we still issue your Careerline Certificate. For Advanced Certificates however, the exam is compulsory (per module) and are included in the course fee.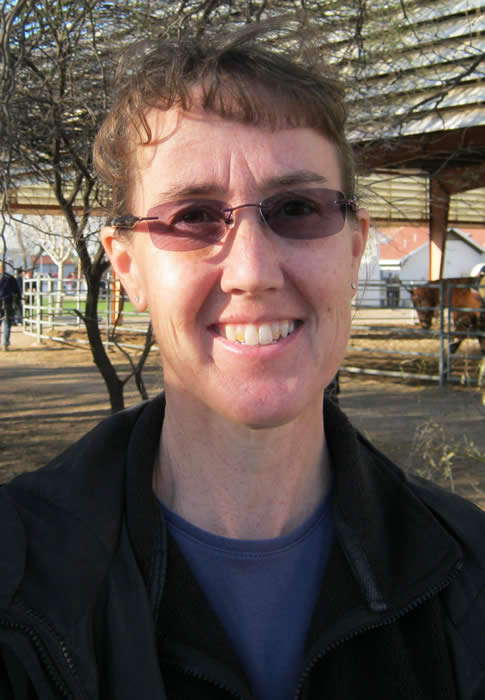 Meg Anema
M.Sc. Clinical Sciences (Equine Reproductive Physiology)  B.Sc.  Animal Science (Option: Equine Science) B.Sc.Agricultural Economics
Meg grew up training and showing horses in youth and 4-H programs, and then went on to earn Bachelor of Science degrees in Animal Science and Agricultural Economics, as well as a Master of Science degree in Equine Reproductive Physiology. In addition to several years of industry experience as a Quarter Horse breeding farm manager and custom A.I. technician, Meg developed and taught for 10 years in a comprehensive, secondary Equine Science Studies Certificate program covering all areas of Equine Science.  Meg considers the horse to be an absolutely incredible athlete and amazing study! Aside from tutoring Careerline's Equine courses Meg has also taught various courses in equine studies including: Equine Nutrition, Equine Herd Health, Equine Sports Medicine, Equine Reproduction, Equine Industry, Principles of Horse Evaluation, Horsemanship, Applied Genetics, Introduction to Veterinary Science, Animal Anatomy & Physiology, Introduction to Animal Science and more.
Frequently Asked Questions
Can I pay in installments?
Yes! We offer great payment plans, however full payment up front is the cheapest. You can choose the best payment plan for you from the course page, or call us on 07 55368782 to talk to one of our course consultants for a custom plan.
Can I study from anywhere in the world?
We have many international students. Careerline's range of courses are suitable for any one, anywhere in the world.
Do I get a discount if I enroll in a second course?
Yes. You may claim a 5% fee discount when you enroll in a second course, and a further 10% off a three-course package.
Do I have to sit an Exam?
No. If you are enrolled in a Certificate course (100hrs), the exam is optional. You will be issued with a certificate which proves that you are competent in all units, if you choose not to sit the exam.
Do you have set start dates?
There are no set start dates, you may start at any time. Our courses are all self-paced. As our home page says, 'Courses for Anyone, Anywhere, Anytime'. 'Anytime' includes the start time of your choice. However, we do encourage our students to submit assignments on a regular basis. Wherever possible, we suggest developing a study routine.