Tropical Plants Online Course
Learn where and how to grow tropical plants
Create a Tropical Garden or Grow them as Indoor plants
Propagate, Breed, Collect Tropicals -indulge a passion or start a indoor plant business
Study many of the significant tropical plants including: Heliconias, Alpinia, Hedychium, Zingiber, Musa, Costus, Cordylines, palms and cycads, climbers, shrubs, trees, orchids, ferns, Aroids and Bromeliads, herbs, vegetables and fruit bearing plants, etc.
This course provides a valuable instruction for both growing plants in warm places or in protected places such as greenhouses and inside homes or offices.
Enroll via pay full fee option and receive this beautiful full color e-book: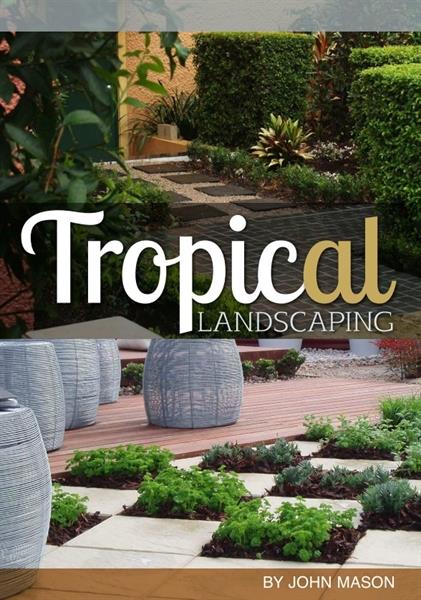 Course Aims:
Explain the nature and scope of tropical plants
Discuss cultural characteristics that are often peculiar to tropical plants
Describe the taxonomy and culture of a range of soft wooded tropical plants including annuals, perennials and bulbs.
Describe the taxonomy and culture of Heliconias and Gingers..
Describe the taxonomy and culture of Palms and Palm like tropicals.
Describe the taxonomy and culture of climber, tree and shrub tropical plants.
Describe the taxonomy and culture of Orchids, Ferns and Bromeliads.
Describe the taxonomy and culture of Herbs, Vegetables and Fruits in tropical conditions.
Get Free Info Pack
Complete the form below and we'll send you a free info pack.
This course is made up of a number of lessons or units.  Each of these has self assessment questions, a set task (practical homework) and an assignment which you can upload online.  Click below to read about each of the lessons and what you will learn.
There are 10 Lessons in this course:
Introduction to Tropical Plants
What does the term "tropical" mean
What tropicals grow where you live?
Plant names/classification (scientific & common)
Species, hybrids, varieties and cultivars
Growing Tropical Plants in different climates; tropical, sub tropical, arid and temperate
Climatic Variations; seasons, mountains, savannahs, rainforest, coastal
Gardening for Warm Climates and Microclimates
Good and Bad News about Tropical Gardening
Heat Traps, Warming a Garden, Greenhouses
Plant Cultural Practices
Common Gardening Problems
Understanding soils, naming a soil, texture, pH, fertility, nutrition, feeding
Water and Plant Growth
Water deficiency and excess symptoms
Water Dynamics in a Soil
Planting and Plant Establishment Methods
Light Requirements
Mulches
Tree Guards
Weeds
Propagation,cutting, seed, propagating media
Potting Mixes, Potting up, Caring for young plants
Pruning etc.
Tropical Annuals, Perennials, Bulbous Plants, Bamboos & Lawns
Bamboos, Grasses and Grass Like Plants
Landscaping with Bamboos
Review of Bamboo species
Review of other herbaceous tropicals, including: Achmines, Agapanthus, Alocasia, Amorphophallus,Aristea, Babiana, Boophone, Brunsvigia, Caladium, Calaqthea, Calostemma,Clivia, Calocasia, Crinum, Crocosmia, Cyrtanthus, Dierama, Eucharis, Eucomis, Gladiolus, Gloriosa, Zephranthes, Hippeastrum, Hymenocallis, and many others
Lawns
Turf Varieties for Warm and Hot Areas
Ornamental Gingers and Heliconias (and related plants)
Introduction
Zingerbales; Musaceae (bananas), Strelitziaceae (bird of paradise), Lowiaceae, Heliconiaceae (heliconias), Zingiberaceae (gingers), Costaceae (costus), Cannaceae (cannas), Marantaceae (prayer plants
Gingers
Heliconia
Costus
Canna
Strelitzia
Cordylines, Palms & Cycads
Types of Palms; self cleaning, cleaning, solitary or clumping, fan or pinnate, etc
Palm Propagation
Review of many cultivated Palm Genera
Cordylines
Climbers, Shrubs and Trees
Review of many cultivated Tree and Shrub Genera
Cultural Requirements
Review of many selected species characteristics
Conifers; culture, genera, species
Climbers; Allamanda, Antigonon, Aristolochia, Beaumontia, Bignonia, Bougainvillea, Campses, Ceropegia, Cissus, Clematis, Clerodendrum, Clitoria, Clytostoma, Combretum, Congea, Ficus, Hoya, Ipomea, Manettia, Mucuna, Pandorea, Philodendron, Scindapsis, Stephanotus, Thunbergia, Trachelospermum.
Orchids, Ferns, Aroids and Bromeliads
Orchid introduction
Growing Orchids
Epiphytes
Orchid Genera
Bromeliads
Growing Ferns
Types of Ferns; Fern Classification and families
Fern Culture
Aroids
Tropical Herbs, Vegetables and Fruit Bearing Plants
Growing Methods; organic, no dig, permaculture, Container Growing, Hydroponics, etc
Culture of Selected Vegetables in tropical and sub tropic conditions
Bush tucker
Tea and Coffee
Tropical Fruit trees
Growing Tropical Plants outside the Tropics
Growing tropicals indoors
Growing in different climates and conditions.
Landscaping with Tropical Plants
Use of colour & texture
Plant selection
Planting a courtyard
Preparing sketch plans.
When you have completed the lessons of your Certificate course, you will be given the option of taking the optional exam. It's okay if you don't want the exam, we still issue your Careerline Certificate. For Advanced Certificates however, the exam is compulsory (per module) and are included in the course fee.
Barbara Tremain BSc. (Hons) Horticulture, RHS Adv. Cert,. RHS General, City & Guilds Garden Design, Permaculture Level 3 (UK)
Barbara brings to Careerline a wide range of horticultural experience and knowledge Barbara has a keen interest in herbalism, edible wild plants and has lead into studies of many plant based complementary medicinal systems, qualification as a Bach Flower remedy practitioner and studying Ethnobotany. Barbara has practiced and studied horticulture as well as combining it with her love of travel in many countries including the UK, US and Australia and has also studied Permaculture and runs her own horticulture business. Within the past two years she have also worked for Groundwork SW with 18-24 year old unemployed people, this work and the mentoring scheme has allowed me to teach informally. It has been a delight to nurture the interests of keen learners in horticulture and garden design. Meanwhile the business has covered a variety of Garden Design projects, from wildflower gardens to seaside situations, and has included some work with Chelsea Gold multi-winner John Moreland.
Frequently Asked Questions
Can I pay in installments?
Yes! We offer great payment plans, however full payment up front is the cheapest. You can choose the best payment plan for you from the course page, or call us on 07 55368782 to talk to one of our course consultants for a custom plan.
Can I study from anywhere in the world?
We have many international students. Careerline's range of courses are suitable for any one, anywhere in the world.
Do I get a discount if I enroll in a second course?
Yes. You may claim a 5% fee discount when you enroll in a second course, and a further 10% off a three-course package.
Do I have to sit an Exam?
No. If you are enrolled in a Certificate course (100hrs), the exam is optional. You will be issued with a certificate which proves that you are competent in all units, if you choose not to sit the exam.
Do you have set start dates?
There are no set start dates, you may start at any time. Our courses are all self-paced. As our home page says, 'Courses for Anyone, Anywhere, Anytime'. 'Anytime' includes the start time of your choice. However, we do encourage our students to submit assignments on a regular basis. Wherever possible, we suggest developing a study routine.